Last updated 20 March 2012

Methods and activities
The science–policy dialogue process was the foundation for stakeholders' engagement with Participatory Action Research activities throughout the project's implementation.

Activities were conducted in three phases.
Phase 1 involved the participation of stakeholders, especially women and minority groups, in identifying and prioritizing forest-related sectors on the basis of their importance to household livelihoods, national development, and their related vulnerability to climate change impacts.


Phase 2 involved vulnerability assessments and the elaboration of vulnerability maps for each of the identified forest-based sectors in each of the participating countries.


Phase 3 developed forest management and adaptation strategies for the reduction of vulnerability related to the identified development priorities; mainstreaming of adaptation priorities into national development planning; evaluation and enhancement of the role of the private sector in supporting adaptation; and national and international outreach and communication activities.
Participatory Action Research was the main research methodology used in CoFCCA due to its capacity to foster learning, institutional transformation and adaptability in the long term. Participatory Action Research brings together diverse stakeholders, from the regional and national level to the local level, as co-learners or co-researchers.

The approach promotes the use of local knowledge, leads to more relevant research questions, and ensures that results and skills are shared with those who will ultimately need to use them.

Participatory Action Research is a reflective process of progressive problem-solving applied within social learning contexts, where multiple stakeholders construct meanings together (problem definition, objectives) and work collectively toward solutions guided by a shared vision.

Iterative cycles of organizational or community action and reflection makes change processes more robust and effective, as this process ensures systematic learning and sharing, continuously adjusts actions to align with objectives under changing conditions, and empowers the actors themselves to learn and adapt. This is perhaps one of the best ways to approach the inherent uncertainty of complex socio-ecological systems and climate change.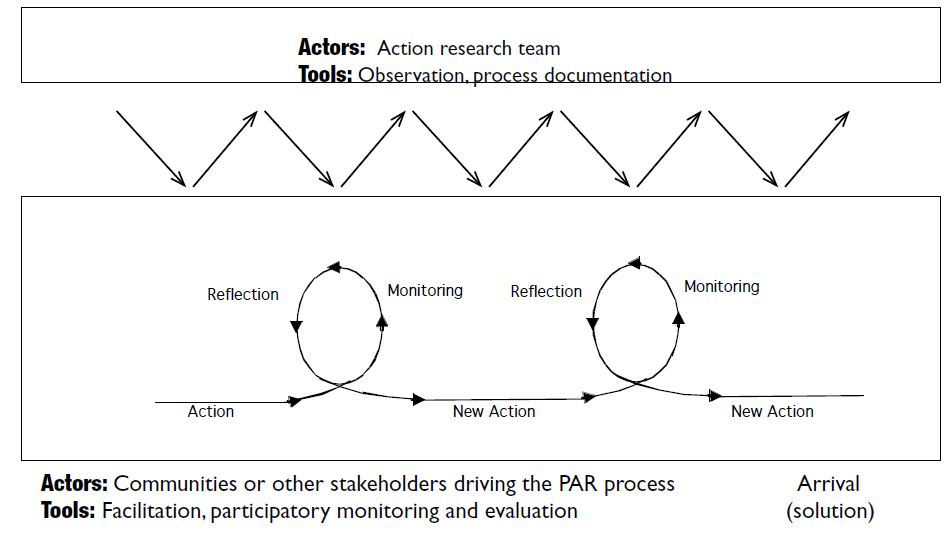 Download the guidebook 'Application of participatory action research to climate change adaptation in Africa' elaborated by CoFCCA scientists and partners by clicking here.