Last updated 20 March 2012

Overview
Congo Basin Forests and Climate Change Adaptation (CoFCCA) was a three-year research project carried out in Cameroon, the Central African Republic and the Democratic Republic of Congo.

The project aimed to assist in developing policy-oriented adaptation strategies that ensure the sustainable and equitable use of forest resources. The main methodology used in the project was Participatory Action Research, which entails planning activities interactively with all stakeholders, learning by doing, and bringing together different types of knowledge — local, scientific and political. This ensures that research is based on the needs and demands of the stakeholders involved, also enhancing their capacity for adaptability in the long term.

Through a regional science–policy dialogue, forest-based sectors (i.e. food security, health, energy, and water) were identified and the climate risks and the vulnerability of livelihoods linked to these sectors were assessed. The vulnerability of gender and minority groups was also assessed, including those in indigenous communities, to explore ways of engaging their participation in national adaptation planning processes and policy formulation.

Thanks to CoFCCA, pilot adaptation activities are now being implemented in six villages. Initiatives include crop and non-timber forest product activities that have remained operational after the conclusion of the project.

Within CoFCCA, a variety of capacity-building initiatives were also implemented for national and local stakeholders such as journalists, universities and development practitioners.

The project was funded by the International Development Research Centre and the UK Department for International Development. CoFCCA worked with partners at the local (non-government organizations), national (government organizations, universities) and regional level (http://www.comifac.org/COMIFAC, CARPE etc.).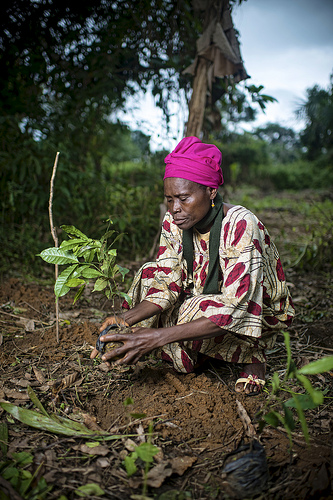 Planting Gnetum in the Village of Minwoho Center, Ewodioula Region, Lekie Province, Cameroon. Photo by Ollivier Girard/CIFOR