Last updated 20 March 2012

Overview
In Central America, TroFCCA explored the role of forest hydrological services for adaptation and studied their significance for two key socioeconomic sectors at the national level (drinking water and hydroelectric power). Sectors were selected based on development priorities during the regional kick-off meeting in April 2006. Specific areas of study were: Birris hydroelectric watershed in Costa Rica; Guacerique and Grande de San José drinking water watershed in Honduras; and Apanás and Lake Asturias hydroelectric watershed in Nicaragua.
Activities in Nicaragua included, among others, hydrological modelling and socioeconomic assessments of adaptation scenarios. Studies to identify critical tropical forest ecosystems that provide services to the hydroelectric-power and drinking-water sectors were elaborated. A similar approach was followed in Honduras, where water and hydric diagnostics related to the drinking water sector were also conducted. Economic evaluations were conducted in Costa Rica, including analyses of Payment for Environmental Services (PES) schemes, cost-benefit analyses of adaptation strategies, and vulnerability assessments.
TroFCCA–Central America conducted research along three lines of enquiry:
Identify forest ecosystems that are important for the drinking-water and hydroelectric-power sectors; provide methodologies for identification; contribute to the design of climate change adaptation in the corresponding sectors.
Determine the vulnerability of forest ecosystems to climate change, with a focus on hydrological systems and three other specific areas of research: impacts of climate change on forest plantations, forest fires, and forest pests.
Evaluate the economic efficiency and viability of projects related to the water sector (drinking and hydroelectric) under climate change. Identify adaptation strategies or projects that improve resilience.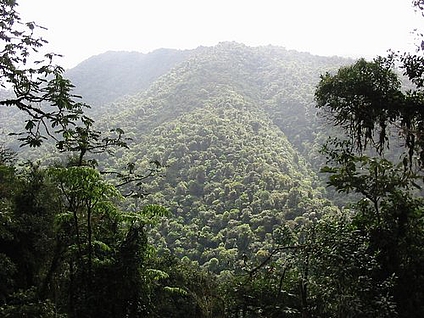 Rainforest in Costa Rica. Photo by Bruno Locatelli/CIFOR
Workshop and meetings
Workshops and meetings included, among others:
6–8 November 2008

Workshop on "Risk management, adaptation to climate change, and environmental political framework in Latin America: tendencies and challenges", organised together with International Union for Conservation of Nature

3–5 November 2008

International workshop "Adaptation to climate change: The role of ecosystem services", CATIE, Turrialba, Costa Rica
Seminario Internacional, Adaptación al cambio climático: el rol de los servicios ecosistémicos (SIAASE)

12–17 August 2007

Participation at the Sixth Interamerican Dialogue on Water Management, Guatemala City

9 August 2007

Workshop on forest ecosystems and climate change adaptation in the drinking water sector, organised by the Ministry of the Environment and Natural Resources Honduras, the National Autonomous Water Service and TroFCCA

24–25 July 2007

Workshop with stakeholders from the hydroelectric sector of Costa Rica, San Jose, Costa Rica

4–6 October 2006

Participation at the third annual Ibero-American Network of Offices of Climate Change (RIOCC) meeting, organised by the Ministry of Environment of Spain, Santa Cruz de la Sierra, Bolivia

4–5 April 2006

Central American Kick-off meeting, CATIE
Partners
Regional or international level: Central America Commission for the Environment and Development (CCAD); Regional Committee of Hydraulic Resources (CRRH); Inter-American Institute for Cooperation in Agriculture (IICA); World Bank Regional Unit for Technical Assistance (RUTA); International Union for Conservation of Nature (IUCN); Both ENDS, Netherlands; Polytechnic University of Madrid, Spain (UPM); Polytechnic Institute of Zurich (ETH); The Nature Conservancy; Centre de Coopération Internationale en Recherche Agronomique pour le Développement, France (CIRAD); Edinburgh University; University of Oregon (Pacific Northwest Research Station; USDA Forest Service); AgroParisTech - Paris University; Ian Burton (Climate Change Adaptation Specialist)
Costa Rica: Ministry of the Environment and Energy (MINAE); Ministry of Agriculture and Animal Husbandry (MINAG); National Institute of Agricultural Technology (INTA); National Fund for Forestry Financing (FONAFIFO); National Institute of Meteorology (IMN); Costa Rican Institute of Energy (ICE); National Office of Forestry (ONF); Commission for Managing the Reventazon Watershed (COMCURE); Water and Sanitation Laboratory at Tres Rios (AyA); National Autonomous University (UNA); The Nature Conservancy; Commission for the rescue, conservation and protection of the watershed and water catchment of the sub-region Los Santos (COPROARENAS).
Honduras: National Secretariat of Natural Resources and Environment (SERNA); The Climate Change Program in SERNA; Honduran Corporation of Forestry Development (AFE-COHDEFOR); Honduran Forestry Agenda (AFH); National Meteorological Institute; National Autonomous Service for Water and Sanitation (SANAA); National Autonomous University of Honduras; National School of Forest Sciences (ESNACIFOR).
Nicaragua: Ministry of Natural Resources and Environment (MARENA); National Office for Clean Development at MARENA (ONDL); National System of Information on Natural Resources and Environment at MARENA (SINIA); Nicaragua Institute of Terrestrial Studies (INETER); National Energy Commission; Hidrogesa; Project for Small Hydroelectric Plants; National Enterprise for Water and Sanitation (ENACAL); National Institute of Forestry (INAFOR); National Agrarian University (UNA).


TroFCCA–South-East Asia was implemented in Indonesia and the Philippines. During the kick-off meeting on 29–30 May 2006, the TroFCCA stakeholders in Indonesia selected forest fires and landslides as regional research priorities. These two topics are important issues in the forestry sector of Indonesia. Long-term changes in climatic trends in the region are expected to increase the frequency and intensity of fires and landslides. Without efforts to forestall the loss and adapt to future climate, these two hazards could cause significant economic disruptions and resource loss for national development. For example, the total estimated loss caused by fires in 1997–1998 was between US$8.7 billion and US$9.6 billion. On average, landslides cause 40 deaths and US$4 million in economic losses per year in Indonesia.
The vulnerability of forest ecosystems to fire was analysed through the integrated vulnerability assessment framework for socioecological systems. The role of trees in anchoring soil and reducing landslide risk was evaluated in risk zones. Integrated vulnerability assessments in relation to landslides were also conducted in critical zones with a special focus on adaptive capacity related to land management and other socioeconomic factors. Adaptation strategies were developed based on the results.
The research focus of TroFCCA in the Philippines targeted the water resources sector. Water resources in the country are essential for domestic and industrial use: irrigation, power generation, animal husbandry, fisheries and recreation activities. The country is becoming more susceptible to water-related disasters under weather extremes, such as floods, droughts and typhoons. The potential of ecosystem-based adaptation strategies was explored and evaluated under different contexts and recommendations for policy and sectoral plans were made.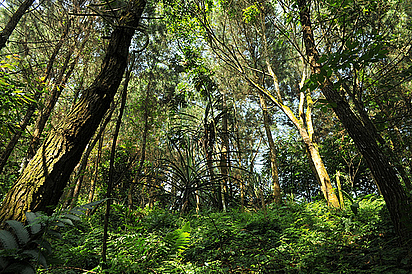 Scenery from Gede-Pangrango National Park, Indonesia. Photo by Eko Prianto/CIFOR
Workshop and meetings
Workshops and meetings included, among others:
| | |
| --- | --- |
| 19–20 February 2008 | International Conference — Workshop on Biodiversity and Climate Change in South-Eeast Asia: Adaptation and Mitigation, Manila, Philippines |
| 2 May 2007 | Training Workshop on Climate Change for Journalists, Jakarta, Indonesia |
| 7–8 December 2006 | First Dialogue Meeting on Land Movement and Climate Change, Bogor, Indonesia |
| 29–30 May 2006 | First regional (kick-off) meeting, Bogor, Indonesia |
Partners
Indonesia
Government and research organisations: Ministry of Environment; Ministry of Forestry; Ministry of Home Affairs; National Development Planning Agency (BAPPENAS); National Institute for Aeronautics and Space (LAPAN); Meteorological and Geophysical Agency (BMG); Research Center for Geotechnology, Indonesian Institute of Sciences (LIPI); Center for Vulcanology and Geological Disaster Mitigation, Ministry of Energy and Mineral Resources (ESDM).
Universities: Bogor Agriculture University (IPB); Brawijaya University, Malang; University of Tokyo, Japan.
Non-government organisations and others: World Agroforestry Centre (ICRAF); WWF–Indonesia; Pelangi; Wetlands International; Indonesian Red Cross (PMI); Indonesian Center for Environmental Law (ICEL); South Sumatra Forest Fire Management Project

Philippines

Government and research organisations: Department of Environment and Natural Resources (DENR); Department of Science and Technology (DOST).

Universities: University of the Philippines, Los Baños; local universities.

Non-government organisations and others: Manila Observatory; Klima Climate Change Center; Interagency Committee on Climate Change (IACCC).
Overview
TroFCCA activities in West Africa were implemented in Burkina Faso, Mali and Ghana, where stakeholders identified and prioritised forest-based sectors on the basis of their importance to national development and their related vulnerability to climate change impacts. Energy, health, water and food were defined as the most vulnerable sectors. Research efforts focused extensively on forest-based coping strategies of local communities and local and national governance arrangements that enable or undermine adaptation.
The extent to which climate change adaptation is compatible or adequately dealt with in sectoral plans affecting forestry and forest ecosystem services in West Africa was analysed. The potential contribution of forest, firewood and water catchment policies and practices to the adaptation of society was evaluated.
Network analyses were conducted to assess the role of networks in influencing policy outcomes (e.g. in National Adaptation Plan of Actions) by examining information flows and power relationships in the arena of forests, climate change and adaptation in Burkina Faso and Mali.

Comparative research focusing on governance, forests and adaptation was undertaken in municipalities in south-western Burkina Faso. In-depth interviews were conducted with representatives of local institutions and development projects to examine the opportunities and barriers for successful adaptation in the context of ongoing decentralisation.

Research activities included:
Vulnerability assessment of water resources and non-timber forest products in Mali, Burkina Faso and Ghana.
Vulnerability assessments in the River Offin basin in Ghana and the Moyen Bani basin in Mali.
Assessment of vulnerability and adaptive capacity at the interface of forest and livestock production systems in Mali.
Generation of future climate scenarios for the region using PRECIS (a regional climate modelling system).
Assessment of potential, opportunities and barriers related to payments for environmental services (PES) schemes as mechanisms to finance adaptation in Ghana.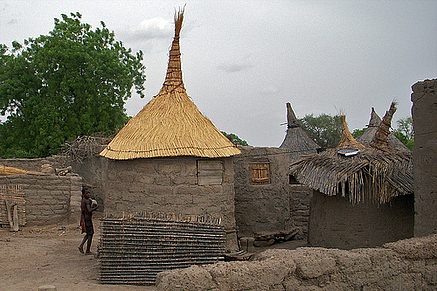 Village scenes from Burkina Faso Burkina Faso. Photo by Carol J. Pierce Colfer/CIFOR
Workshop and meetings
Workshops and meetings included, among others:
| | |
| --- | --- |
| 18–20 November 2008 | Regional meeting "Knowledge and Actions on Forests for Climate Change Adaptation", Accra, Ghana |
| 7 June 2008 | "Local governance: Opportunities and limits for effective adaptation in the context of climate change and forest ecosystem goods and services", Exchange platform and workshop, Gaoua, Burkina Faso |
| 14­–19 May 2007 | "Decision making and policy networks in forestry-dependent development sectors: Mainstreaming adaptation to climate change into policy", TroFCCA Policy Research Workshop, Ouagadougou, Burkina Faso |
| 11­–17 July 2007 | National PRECIS Training Workshop: Assessing climate change and climate variability impacts in Burkina Faso |
| 7–8 June 2006 | TroFCCA West Africa kick-off meeting |
Partners
Regional/international organisations: Economic Commission for West African States (ECOWAS); Comite permanent Inter Etats de Lutte contre la Sécheresse dans le Sahel (CILSS); German Agency for Technical Cooperation (GTZ) Bamako, Mali; Institut d'Etudes et de Recherches Agricoles (INERA); Environmental Development Action in the Third World (ENDA); International Research Institute for Climate and Society (IRI); International Crops Research Institute for the Semi-Arid Tropics (ICRISAT); African Centre of Meteorological Application for Development (ACMAD); United Nations Economic Commission for Africa (ECA); Comité Permanent Inter-états de Lutte contre la Sécheresse dans le Sahel (CILSS); CARE International; International Institute for Sustainable Development (IISD); International Development Research Centre (IDRC); Union Economique et Monétaire Ouest Africaine (UEMOA); Institut International de l'Eau et de l'Environnement (2IE).
National institutions: Ghana Environmental Protection Agency (EPA); Forestry Research Institute of Ghana; Kwame Nkrumah University of Science, Kumasi, Ghana; International Water Management Institute (IWMI) Regional Office in Accra, Ghana; AMADER, Bamako, Mali; INERA (Institut de l'Environnement et de Recherche Agricole), Burkina Faso; Meteorological Department, Burkina Faso; Department of Forestry, Burkina Faso; Meteorological Department, Ghana; Forest, Energy and Water Commissions, Ghana; Botany Department at University of Ghana; Meteorological Department, Mali; Directorate of Conservation of Nature, Mali; Hadley Centre, UK; Université de Ouagadougou, Département de Sociologie, Burkina Faso; Centre Nationale de la Recherche Scientifique et Technologie, Ouagadougou, Burkina Faso; SP–CONEDD, Ouagadougou, Burkina Faso; Conseil National pour l'Environnement et le Développement Durable, Burkina Faso; Centre Nationale de la Recherche Scientifique et Technologie, Bamako, Mali; Ministry of Environment, Bamako, Mali; Secrétaire Technique Permanent (STP/CIGQE), Bamako, Mali; Direction Nationale de la Conservation de la Nature (DNCN), Mali; VSF–CICDA Coordinateur National Mali; Cercle de Goundam, Président de Conseil de Cercle, Goundam, Mali
Non-government organisations: International Union for Conservation of Nature, Bamako, Mali; SNV, Bamako, Mali; Mali Folk Centre, Bamako, Mali; SNV, Ouagadougou, Burkina Faso